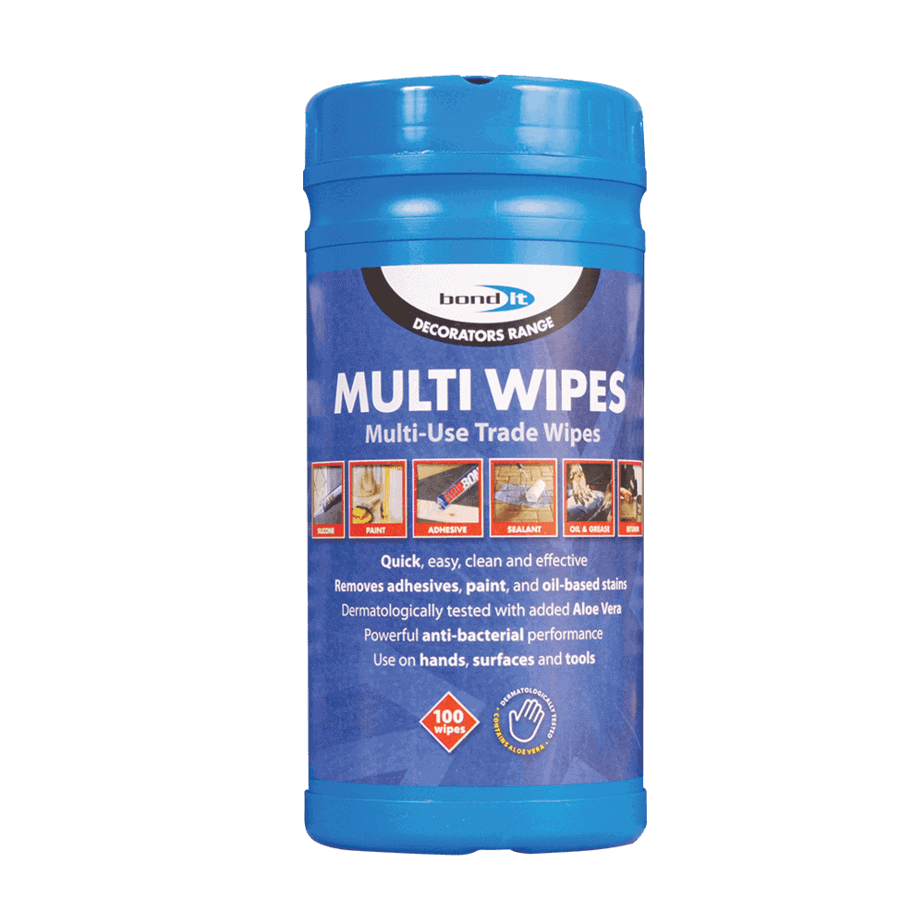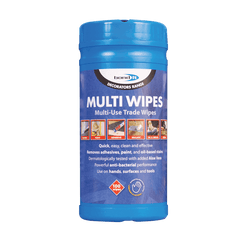 Multi Wipes
Regular price

Sale price

£4.98

£11.50

Unit price

per
Description
Specification
products.product.description
Ultra strong wipes ideal for cleaning up adhesive and sealant.

Re-sealable container holding 100 wipes.

Wall panels are increasingly being preferred instead of other wall finish types such as painting, cladding with tiles, and wallpapering. Wall panels are being used because of different reasons including the ability to conceal flaws, cost, durability, and hygiene. Even with the numerous benefits of wall panels, one of the main disadvantages of wall panelling is that during the process of installation, you will be exposed to germs, sealant, adhesive, paint, etc. from tools and surfaces. However, the good news is that there is a reliable hand sanitising and cleaning solution in the form of Multi Wipes for cleaning different surfaces, tools, and your hand.

This product can be used for clearing up bitumen, oil, expanding foam, paint, sealant and much more. You can also use this cleaning solution to get rid of the dirt and germs in your hands and for cleaning different surfaces and equipment. Trades' people and builders prefer Multi Wipes since it can be used even without water. The product has a strong smell and is available in a re-sealable tub.

Why Use Multi Wipes
• No need for dirty towels
• A single wipe does the cleaning job perfectly
• No need for cleaners, soap, and water
• The re-sealable contain holds 100 wipes
• Foiled sealed containers to preserve freshness and prolong its shelf life
• Contains Aloe Vera and Vitamin E, essential ingredients for minimising possible skin irritation when using the Multi Wipes.
• Powerful anti-bacterial performance
• Reduces contamination risk
• Dermatologically tested

Multi Wipes is useful in safeguarding you against possible skin irritation since the Institute for Skin Research examined the product. It should also be noted that this product is ideal for home, workshop and office use. The product is also great for trades' people who either do not want to stain or dirty the bathrooms of customers or do not have access to the much-needed cleaning facilities.

Therefore it's important to note that Multi Wipes may not be suitable for cleaning some uPVC such as laminated plastics, fabrics and delicate surfaces. Thus, a compatibility test is necessary to determine whether or not the particular surface is suitable for the application of the cleaning product. Additionally, you should also note that before you can handle sensitive equipment or items, you have to let the fluid dry first or dry the fluid of the product from your hands. And if the liquid comes into contact with your eye, you should soak your eye with plenty of water and remember to keep the product away from flames/heat and children.

 

 
Specification
SKU: 9202
Weight: 0.46 kg