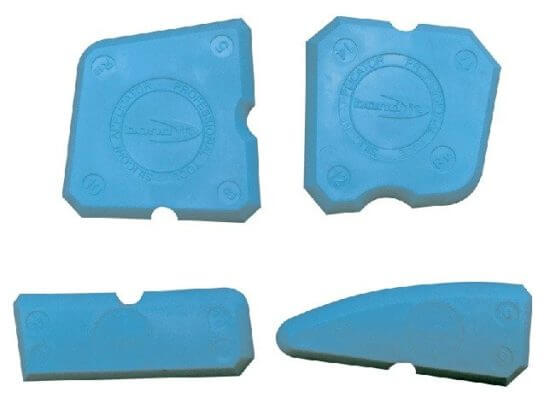 Silicone smoothing tool kit
Silicone smoothing tool kit
Regular price

Sale price

£4.80

£7.00

Unit price

per
Description
Specification
products.product.description
A silicone sealant is vital for keeping out moisture, filling seams and other gaps, and finishing joints. There are different types of silicone sealants available for use. Generally, the composition of the silicone sealant determines how fast it hardens and how flexible it is. For general purpose, you should use a universal sealant. However, for wet areas such as bathrooms, you should employ the use of a mould-resistant sealant.

Even with the critical benefit in the use of silicone for creating a watertight seal between your wall panel joints or for sealing bathtubs, windows, and other fixtures, it has one main problem. Silicone sealant usually presents an application challenge. It is challenging to apply smoothly to achieve good and even finishes. As luck would have it, there are different methods available including the use of a silicone smoothing tool kit to ensure that every time you apply silicone sealant, it looks perfect.

The use of a silicone Smoothing Tool is guaranteed to deliver to you a finished waterproof seal that is perfect. You can get a professional finish for any of your silicone jobs including when installing wall panels every time you use this silicone smoothing tool kit.

Using a Silicone smoothing tool kit ensures that you avoid silicone smoothing using your hand. Silicone smoothing using your hand is usually a lot more difficult since you have to run your hand along the entire length of the applied silicone sealant and you will get dirtier. Achieving real smoothness may require two or more tries.

You should also note that this tool kit comes with four tools and cleaning the tools after using them is easy. The four devices are of different profiles ensuring that you can use them for silicone smoothing in different edges, joints, and corners. All the four tools deliver silicon sides trimming efficiently and professionally.

Understand that before you use a silicone smoothing tool kit, you should first learn how to use it. Various YouTube videos can help you in that respect. Additionally, you should have a small area to practice on how to use the Silicone smoothing tool kit. Always remember that practice breeds perfection.

In conclusion, you should always remember to use the Silicone smoothing tool kit before the silicone hardens. Once the silicone sealant has begun to thicken, it becomes impossible for you to achieve the desired professional finishing look. Also, silicone smoothing should be done in sections for you to be able to produce much better results.
Specification
SKU: 1410
Weight: 0.092 kg