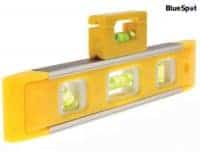 Spirit Level Set | Small magnetic 2 piece bundle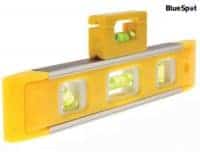 Spirit Level Set | Small magnetic 2 piece bundle
Regular price

Sale price

£6.60

£10.50

Unit price

per
Description
Specification
products.product.description
The Torpedo level fits nicely in a tool belt or toolbox.

The tiny size and shape make them ideal for working in tight, awkward spaces.

As a DIYer, you know the importance of perfection. Everything needs to be in the right place for that perfect outcome that the owner of the property will love. Whether it is pipework, you are getting done or installing some new wall panels on a client's property, getting it right the first time should be your main aim. The finish will be impressive, and the final product will be highly functional.

This Torpedo spirit level set is the ideal partner when it comes to getting anything done. Whether you are a DIYer or a professional, this is the third hand you need. It will help you get the straight edges you so desire and do so with ease and without much of an effort. The level is 225 mm long and is perfect for use in the smallest places.

A good spirit level needs to be sturdy and last a long time. It should be made up of a sturdy casing preferably aluminium, and the outer covering needs to be solid plastic. It should have several angles of alignment, so it is easy to use and gives the perfect finish.

Ease of use should be a paramount consideration when it comes to buying a tool bet spirit level. Find one that has a magnetic edge that sticks to metallic sites making it easy to align the other sides. For pipework, a spirit level that has a V groove eases work. Also, consider getting a spirit level set that is small and will allow you to work in small and large areas with equal ease. Getting one that is light in weight and small in size will make it easy to carry from one place to the other. If it fits in your toolbox, then it is a perfect choice.

How do you use a spirit level? On the bottom edge of the wall, mark a line. Place the level on this line with the bottom-up. The bubble should be centred. To find the true horizontal, place the level on the side you need to get the horizontal and ensure that the spirit tube is parallel. Allow the bubble to float and then put place your eye, so your line of vision is directly in level with the bubble. Mark this and proceed with the placing of what you wanted. You will get the perfect lines!
Specification
SKU: 9204
Weight: 0.12 kg