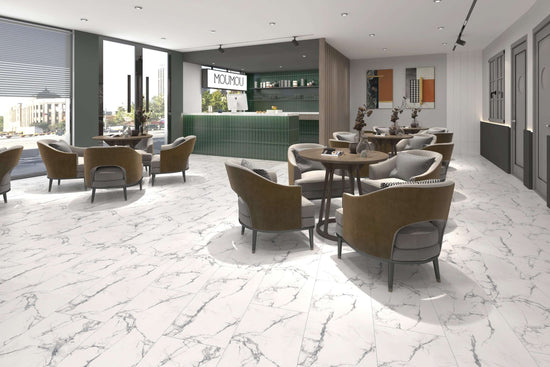 Ankara Vinyl Click Flooring 1.5m2 per pack of 8
Note: The unit price includes 8 panels ( each 610mm x 305mm), 5mm thick with underlay attached. 100% waterproof.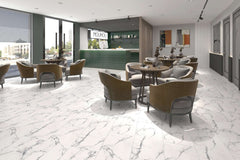 Ankara Vinyl Click Flooring 1.5m2 per pack of 8
Regular price

Sale price

£45.00

£80.00

Unit price

per
Description
Specification
products.product.description
Ankara 5mm Vinyl SPC Click Flooring
Get the marble look without the marble price tag with our stunning Ankara SPC vinyl flooring. These flooring panels ooze opulence and work nicely with minimalistic designs.
The Ankara 5mm click flooring is a cost-effective and quick installation alternative to traditional tile. It has a decorative marble effect with a realistic and authentic appearance due to its high res image layer, making them the perfect companion to our concrete wall panels. Get the quality and effect you want without the high price tags and lengthy installation process. Combined with a water resistant and impact resistant foam underlay for extra protection and security, the Ankara floor panel ticks all the boxes.
Authentic marble can be expensive, hard to source and difficult to maintain. With the marble effect Ankara floor panel, you can have you marble flooring installed within a few hours. Maintaining your brand new flooring will be as easy as 1,2,3, simply wash with warm soapy water and a light cloth for the best results.
This water resistant bathroom vinyl flooring is perfect for use in wet areas like kitchens and bathrooms, with its LVT foam underlay providing impact resistance to protect your flooring. If you're looking to stick to a budget and get the best value for your money, floor panels are the solution for you. Have the freedom to choose the texture and effect you desire without having to compromise on your budget.
Vinyl click flooring doesn't require grout, meaning you have a much smoother upkeep. Easy Panels flooring is made from a unique combination of LVT foam underlay and SPC core and features a top UV colour protection layer, making them a perfect solution for home improvements. Simply wipe your click flooring with a wet cloth and soapy water to keep them gleaming with a show room finish.
Features: 
Versatile
Foam underlay attached
Non-slip
Impact proof
Click system for easy installation
The Ankara floor panel comes with a quick and simple installation process. Whether you're an avid DIYer or looking to give some home improvement tasks a go, floor panels are the perfect place to start. Simply line up your first panel, then attach and lock your second panel to the vertical end of your original panel. Repeat this process length ways until you reach your desired length. Simply repeat this process, until you have covered the square footage of your space. No adhesive or extensive tools required!
Additional Features Include: 
Thickness: 5mm
Length: 610mm
Width: 305mm
Specification
SKU: 1930
Dimensions: 5 x 305 x 610 (mm)
Pack Size: 8 panels
Weight: 12.6 kg