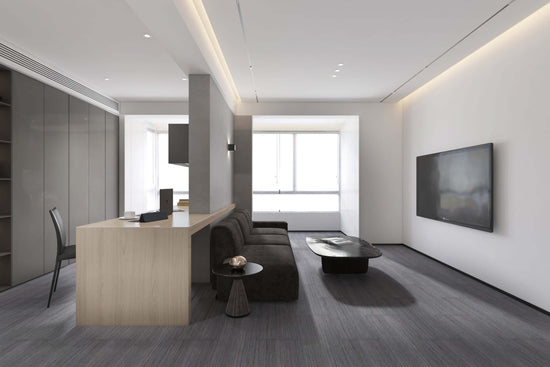 Grey Linen Vinyl Click Flooring 5mm 1.5m2 per pack of 8
Note: The unit price includes 8 panels ( each 610mm x 305mm), 5mm thick with underlay attached. 100% waterproof.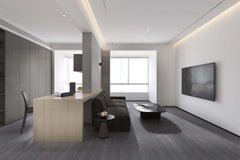 Grey Linen Vinyl Click Flooring 5mm 1.5m2 per pack of 8
Regular price

Sale price

£45.00

£80.00

Unit price

per
Description
Specification
products.product.description
Grey Linen 5mm Vinyl SPC Click Flooring
Vinyl flooring brings the sleek look of grey tile to any room without the price tag or the hassle. Modernise your home today with the highly popular Grey click flooring.
The Grey Linen 5mm SPC Core flooring gives a clean and modern look to your floors with an affordable and easy installation. This water resistant floor panel can be installed on any surface – tile, concrete, wood – and pair perfectly with our marble wall panels for a sophisticated look. With its high-quality foam underlay and slip resistant finish, the Grey Linen luxury vinyl panels are durable and versatile, perfect for creating a space that's as unique as you are.
Floor panels bring a sleek and elegant look to any room without the hefty price tag. Compared to the lengthy installation of tiles and other flooring materials, panels simply require a few hours to install with their one-of-a-kind click and lock system. Simply slot your panels together and watch them lock into place.
We would never compromise on style so neither should you, get the high quality effect of tiles without the price tag and upkeep with the Grey linen click flooring.
Features: 
Water Resistant
Cost effective
Transparent impact resistance layer
LVT foam underlay
Versatile
If you're looking to upscale your space, whether it's domestic or commercial, the Grey Linen floor panel offers a sleek and understated design that lasts. With UV colour protection and a SPC core, floor panels are more than an alternative to tile flooring they are a budget friendly, high quality product; the perfect finishing touch to your home.
The Grey Linen floor panel is an ideal addition to a bathroom renovation, whether you've just installed a wet room, looking to renew your bathroom appliances or simply looking to give your space a bit of a facelift; floor panels are the solution for you. Our panels are 100% water resistant meaning you protect your home from any water damage and leaks. With the LVT foam underlay, it ensures that your vinyl flooring remains in place and keep any excess water out!
Additional Features Include: 
Thickness: 5mm
Length: 610mm
Width: 305mm
Specification
SKU: 1567
Dimensions: 5 x 305 x 610 (mm)
Pack Size: 8 panels
Weight: 12.6 kg