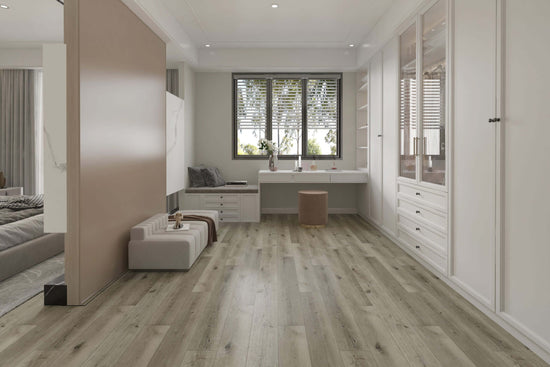 Ottawa Vinyl Click Flooring 1.75m2 per pack of 8
Note: The unit price includes 8 panels ( each 1220mm x 180mm), 5mm thick with underlay attached. 100% waterproof.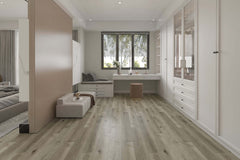 Ottawa Vinyl Click Flooring 1.75m2 per pack of 8
Regular price

Sale price

£45.00

£80.00

Unit price

per
Description
Specification
products.product.description
Ottawa 5mm Vinyl SPC Click Flooring
Easy to install, and easy to maintain, the Ottawa SPC vinyl flooring is the stylish and affordable alternative to authentic tiles. These classic click panels are the perfect product for any DIY-er looking to make some quality home improvements.
If you're looking for a versatile and cost-effective flooring option that will stand up to hard wear, then the Ottawa 5mm click vinyl flooring is for you. Our water resistant design, makes the Ottawa floor panel versatile enough to be used in any room in your house. Because we use foam underlay for added durability, you can forget about worrying about your floors being scratched or damaged.
The visual texture offers an elegant alternative to traditional tile flooring. And with the SPC panels unique transparent impact resistant layer, you can forget about worrying about your floors being scratched or damaged. This makes the Ottawa flooring the perfect addition to any home.
Why not upscale your space with the stylish and modern Ottawa floor panel? It's cool grey tones make it an ideal addition to a master bedroom, ensuite and even living space. Get the showroom ready look without the cost or maintenance.
Features: 
Water resistant
Foam underlay attached
Cost effective
Non-slip
Impact resistant
Quick installation
The Ottawa floor panel also comes with a quick and simple upkeep. Simply wipe down your panels with a soft cloth and warm soapy water. No need for added gimmicks and specialist products - to keep your SPC panels gleaming we recommend using a microfibre cloth which will pick up any hard to get dirt and dust. To avoid any damage to your panels we recommend sweeping before wiping your flooring down to avoid dragging any sharp bits or objects across your flooring.
Perfect for the individual or family looking to add style and function to their space. The LVT foam underlay provides excellent grip, while the visual texture creates an attractive flooring option, we make sure you have the full package. No need to compromise on style or function, the Ottawa vinyl flooring truly ticks all the boxes.
Vinyl click flooring doesn't require grout, meaning you have a much smoother upkeep. Easy Panels flooring is made from a unique combination of LVT foam underlay and SPC core and features a top UV colour protection layer, making them a perfect solution for home improvements. Simply wipe your click flooring with a wet cloth and soapy water to keep them gleaming with a show room finish.
Additional features: 
Thickness: 5mm
Length: 1220mm
Width: 180mm
Specification
SKU: 1566
Dimensions: 5 x 180 x 1220 (mm)
Pack Size: 8 panels
Weight: 15.0 kg